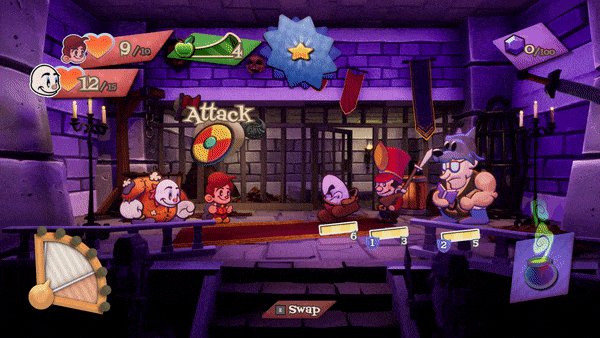 Now in development for PC and all major consoles, Flynt Buckler Wakes the Sleepy Castle is an RPG inspired by the classic Paper Mario games! When an evil corporation expands into storybooks to exploit their untapped resources and cheap labor, fairytale hero Flynt Buckler must band together with other storybook characters to save the day.
Face off against wacky enemies in snappy turn-based gameplay! Perfectly-timed action commands allow Flynt to finish off his foes with style.
Dive into storybook worlds packed to the brim with colorful characters, captivating locales, and electrifying secrets!
The once vibrant world of Flynt Buckler has been subdued by a greedy corporation. Wake the Sleepy Castle from this capitalist nightmare!
Featuring a jazzy, big band soundtrack created by composer Daniel Whitworth, you'll be tapping your foot throughout your adventures in the sleepy castle. 🎵
Battle Theme - World 1 Remix
Three "Little" Pigs Boss Battle
Ryan Kitner
​
Project lead, art, animation, programming, gameplay design
​
​
Daniel Whitworth
​
Level design, music, sound design, production
​
​